Dragon Kingdoms
by Thomas Eskew
Latest Update (5/28) To the Something Awful forums...
Just to let you all know, this comic may be among the worst out there, but it almost certainly has changed somewhat. Yes, before 2005, it was just an awful copy-and-paste mess. However, after that, I made the switch to drawing the comic, thus resulting in very few copy and pastes. And, in February, I started to improve the story, based on input from the CG forums.

Unfortunately, the comic went into hiatus soon afterward, after an incident in March I'd rather forget. I have spent most of the time since then trying to make these comics better. No characters are going to disappear, but there will be less of a focus on each one.

In any event, thanks for the input. I'll have to keep it in mind the next time I make a comic.
The forum is here! Click on it and talk all about the comics here!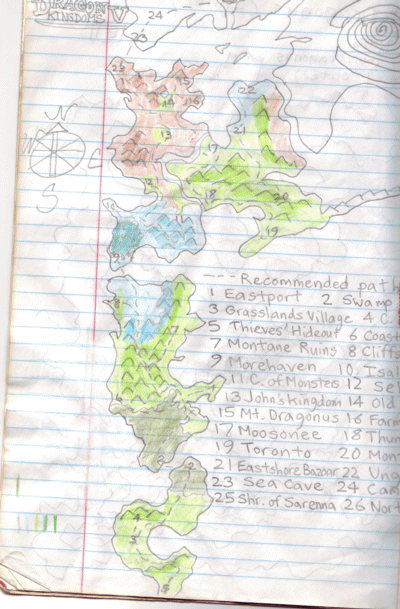 Site Status

Construction means changes, and it's helpful to know what's going on.
Comic Page-This page is fine right now. Minor graphical changes may occur.
History *NEW*- This page is being worked on. It should be up in October.
Archives- This page is fine. All the main series comics (that have been released) are available to be seen here.
Fan Art- This page is undergoing changes.
Projects- This page is being converted over after changes are made!
Reviews- Technically, this page is ready. But there hasn't been anything to review lately!
Previews- This feature has been cancelled for the time being due to lack of anything to preview.
Resources- This page doesn't exist yet! But it will, you'll just have to wait.
Dragon Kingdoms Series Guides- These pages don't exist yet! But they will, you'll just have to wait.
Forum- The forum has changed! It is now at Comic Genesis, here!
Links- This will be the links page. It will have many of the links that are on the sidebar, and perhaps more!
The site should be complete sometime before the end of the year.


Updates
12.03.06-Four new comics added to the Links, beware of an OUTRAGED Corry
My, Corry's had a long wait for his premiere comic. If he has to wait too much longer... he may go into a horrible rage, and those Renzansu can easily become 10 times their size, as well- a fifty-foot angry (possibly OUTRAGED) Corry might not be the best thing to deal with. I found another comic series out there, in fact, several, that look to be good candidates for the link section. Cortland, by, well, Cortland. Reckless Youth, by Ryclaude, and Angry D. Monkey and Emergency Exit are the latest additions below!
Newest Files
Dragon Kingdoms Heroes PosterAdded 03.27.06
Partial Map for Dragon Kingdoms V Added 07.12.05
Concept Art for Dragon Kingdoms VI Added 07.06.05
New William image for Dragon Kingdoms VI/Heroes of the Past Added 06.15.05
Copyright 2005-2007 Kingdom of Dragonia/Trimaris Software